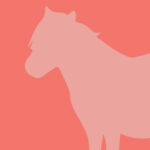 The height of a fully grown miniature horse is less than 34-38 inches, measured at the last hair of their mane.
PROFILE
Violet is the leader of a trio of animals, which includes the mini donkey and sheep. She is often found hanging out with them. They were all donated to us. She is currently living at the Ordway's.
F: 150 – 350 lbs
M: 150 – 350 lbs
Miniature horses were developed in the 1600s in England. Typically found as pets for nobility until their strength and size was discovered to be a solution in the mid-1800s. When the use of young children as mine workers was prohibited, Shetland ponies proved they could do the job. In 1861 they were introduced to the United States. South Africa and Argentina also had early examples of miniature breeds.
APPEARANCE
Unlike standard horses, minis are measured where their mane ends. Standard horses are measured like most four-legged animals which are the withers, or top of the shoulder. Mini-horses tend to look exactly like regular horses, just smaller as they have the same ratio of weight to height – unlike ponies who tend to appear stocky. Minis come in every equine color and coat pattern including solids, pintos, and spotted varieties. Their coats appear to be slightly thicker than those of full-size horses.
CHARACTERISTICS
Good-natured and easy to train. They are highly intelligent, curious, gentle, and social. They adore being with humans, but it is best for them if they are kept outdoors and not treated like house pets. Doing so typically leads to a lack of exercise and overfeeding, leaving the mini in poor health and often obese. They enjoy a diet of grass, hay, rolled oats, and other grains with treats mixed in.